BIA campaigns to improve access to new medicines in the NHS.
While it is important that the UK has a supportive environment for bioscience companies, the ultimate aim is for patients to have access to life-saving or life-enhancing new medicines.
Having a supportive home market is important to the whole bioscience sector, including UK SMEs. Uptake of new medicines is front of mind for global decision makers when considering where to invest.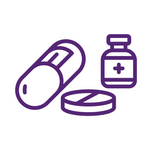 The medical pipeline is increasingly comprised of biological medicines, which are expensive to develop and manufacture but can offer great benefits for patients. With limited healthcare budgets, ensuring patient access to medicine and these latest medical advances will require new flexible routes for licensing, evaluation, uptake, and reimbursement.
BIA works with Government, NHS England, NICE and other stakeholders to support sustainable patient access to innovative new medicines, including through representation on the NHS Accelerated Access Collaborative (AAC) and the Patient Access to Medicines Partnership (PAMP).
BIA also manages the Rare Disease Industry Group to address specific issues affecting access to medicine and reimbursement of treatments for rare and ultra-rare conditions.
---
You might be interested in...