Finance, tax and investment
The BIA campaigns for finance, tax and investment policies to support UK bioscience companies to start and scale up.
The Finance and Tax Advisory Committee (FTAC) leads the BIA's policy development, drawing on the expertise and experience of the membership. Our strong links to the Treasury, HMRC and the Department for Business, Energy and Industrial Strategy (BEIS) ensure that the voice of the bioscience sector is heard at the highest levels. FTAC also provides finance and tax support for BIA members through events and guidance documents.
The UK is the European leader in bioscience investment and is in a strong position to close the gap on the leading life sciences clusters in Boston and San Francisco and achieve the BIA's vision of becoming the world's third-largest global biotech cluster. The BIA works with the investment community to raise the profile of UK bioscience. We publish quarterly and annual reports on the levels of investment in the sector which you can see below.
---
UK Biotech financing 2022 report
As global macroeconomic uncertainty hit fundraising across all sectors, investment in UK biotech fell from the all-time highs seen in 2021, new analysis from the BIA and data and insights company Clarivate shows.
However, global pharma and investors looked to UK innovation to strengthen their product pipelines, with UK biotechs being acquired at a premium and others achieving pivotal milestones in their development.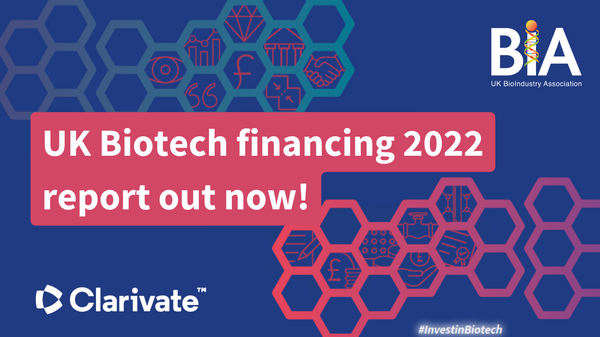 Headline statistics from the report include:
£1.8 billion was raised by UK biotech in 2022, down from the £4.5 billion raised in 2021
Venture capital investment in the sector was the third-best year recorded for the UK, with £1.2 billion raised
Despite the funding downturn, new venture capital funds with a mandate to invest in UK biotech were created in 2022, adding another £3.7 billion of capital that could be attracted to the UK sector
Mirroring the global economic downturn impacting all sectors, the public markets contributed only £575 million to the UK sector's annual fundraising total
Acquisition of UK innovation by US companies increased, including Pfizer's acquisition of ReViral for an estimated £420 million, Gilead's acquisition of MiroBio for an estimated £350 million, and AbbVie's acquisition of DJS Antibodies for £229 million
---
Quarterly biotech financing updates
---
Annual biotech financing updates
2021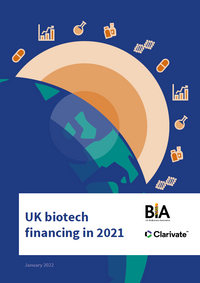 UK Biotech Financing Report 2021
2021 was the highest year on record for investments into UK biotech and life sciences companies. £4.5 billion was raised in public and private financings, £1.7 billion (60%) more than in 2020.
2020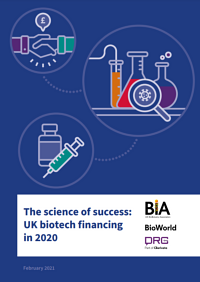 The science of success: UK Biotech Financing in 2020
UK biotech companies raised a record £2.8 billion in equity finance in 2020. The science of success: UK biotech in 2020, marks the best year for biotech investments ever recorded by the trade association and shows that since 2012 investment has increased by over 1000%.
---
UK Listed Biotech & Life Sciences: 2021 Year in Review
2021 Year in Review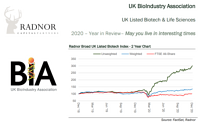 Biotech companies on London stock markets delivered market-beating returns in 2021 and attracted new investors looking for growth in a turbulent year, according to new analysis by the BIA and Radnor Capital Partners.
Over the course of 2021, the broad biotech index curated for returned +16% vs +14% for the FTSE All Share. Cell & Gene Therapy, Research Tools, Medical Devices and Small Molecule subsectors all returned over 20%.