What is Genomics?
Genomics – the study of our genetic material, or DNA – is enabling truly personalised medicines, designed to effectively address patients' disease with as few side-effects as possible. It is also paving the way to more accurate, convenient diagnostic products that help characterise and potentially prevent disease, by picking up signs much earlier.
Genomics is already changing medicine, making it more personalised, and ultimately more effective.
NHS England is committed to using genomics to improve the health of our population through the NHS Genomic Medicine Service (GMS), which provides genomic testing and advice to patients across the country.
As engineers and biologists join forces to build ever more sophisticated gene-editing tools, new classes of medicines are emerging, including cell and gene therapies. These involve altering cells or genes, usually outside the body, to provide a patient-specific therapy that is re-injected into the patient. Scientists' growing understanding of how genes exert their influence, and of the crucial impact of multiple environmental factors on those genes ("epigenetics"), is opening new frontiers of drug research. It has led to an explosion of activity around the gut microbiome – the colonies of micro-organisms residing in our gut – and its role in health and disease.
UK bioscience companies are at the forefront of these innovative, converging disciplines. These companies are a key part of the UK Bioindustry Association (BIA)'s membership and as the trade association for innovative life science companies in the UK, the BIA provides a home for these groups through our Advisory Committees and working groups on antimicrobial resistance, cell and gene therapy, engineering biology and genomics.
Given both this focus of our membership and the increasing external interest in how these innovations can tackle key challenges that society faces and contribute to the growth of a 21st century economy, the BIA is delighted to publish this series of four explainers on antimicrobial resistance, cell and gene therapy, engineering biology and genomics. Within these explainers, we describe what these areas are all about, the important contributions made by UK bioscience firms, and the external environment required to ensure that these innovative approaches continue to benefit patients, the economy and society.
---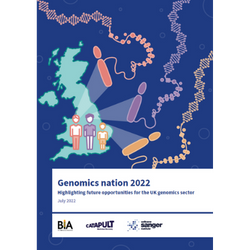 Genomics nation 2022
Innovative UK genomics companies are vital to the future wealth of our nation. With the right investment, skilled people and partnership working with the NHS family, UK SMEs are ideally placed to have an impact on the global stage.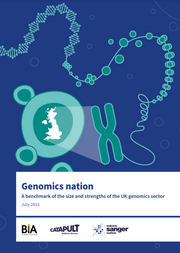 ---
The UK Genomics sector
To help investors and policymakers understand the opportunities Genomics presents in the UK, in July 2021, we produced a benchmarking study of the size and strengths of the UK Genomics sector.
---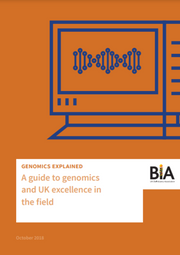 Genomics Explained
To learn more about Genomics, you can download Genomics: A guide to genomics and UK excellence in the field, which contains input from BIA members at the Wellcome Genome Campus, Congenica, Eagle Genomics, Genomics plc, Global Gene Corp, Oxford Nanopore, New Gene, Cambridge Cancer Genomics, Cambridge Epigenetix.
---
Celebrating UK Bioscience | Genomics
Alongside the report we have also produced a video that features case studies from Wellcome Genome Campus, Congenica, Oxford Nanopore and Microbiotica. This video explores the advances made in the field of genomics in the last number of years, and the future of the sector in the UK as technology moves from strength to strength.
We would like to thank the BIA's Genomics Advisory Committee for supporting the production of the video and guide.