We are proud to be working with Kidney Research UK as our charity partner for 2022.
Kidney Research UK are the largest charity dedicated to kidney research in the UK. Their vision is to free lives from kidney disease.
The charity funds research into all aspects of kidney disease - from understanding the condition, to how it can be prevented and treated. The charity wants to discover better, kinder treatments.
We want to raise awareness of kidney disease among patients and families and to help the public to better understand why kidneys matter.
There are two ways you can get involved:
Whether you're looking to achieve a personal fitness or fundraising goal, develop your team building or enjoy some friendly rivalry and win the competition (either in the team or individual category) – the BIA 850 Challenge is an opportunity to have fun, raise your company profile, make new contacts, potentially win great prizes, and most importantly, raise money for an incredible charity.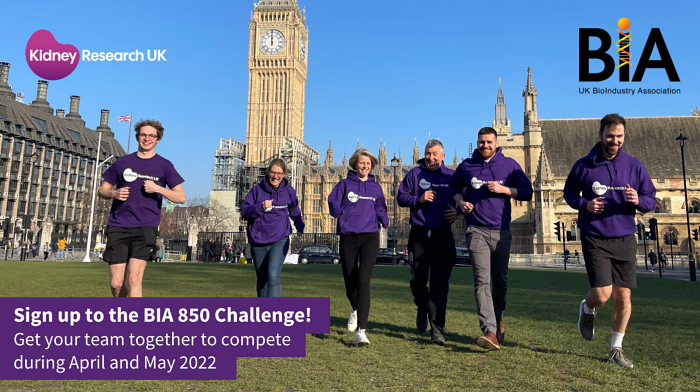 This April and May, we are challenging you to run/walk 85km, cycle 850km or swim 8.5km as a minimum. In addition to the inspiration you'll gain from your teammates, BIA Strava clubs for cyclists, walkers, and runners will enable you to make connections and compare progress with others in your area and beyond.
Open to BIA member companies only; teams will consist of a maximum of 10 people; companies can enter multiple teams.
You can also sign up to be part of the Strava group:
Sandra Currie chief executive at Kidney Research UK said: "Despite their incredibly important role in keeping our body functioning, the kidneys are worryingly overlooked. These results confirm our fears that most people have very little understanding about kidneys and kidney disease. Most concerning is the number of people who are unaware of their risk of developing kidney disease. We estimate around a million people in the UK could be living with kidney disease without knowing. This World Kidney Day, we're urging everyone to use our online kidney health check to understand their risks."
Research has given us life-saving kidney transplants, dialysis machines that filter the blood when the kidneys fail, and drugs to keep us going. But these treatments come at a cost. They can be gruelling, confining, relentless. A transplant is not a cure, they rarely last a lifetime. There's been some progress in treating kidney disease, but not nearly enough. We must transform these harsh treatments to make them better and remove the fear and anxiety they bring.
Millions need our help.
Kidney disease still affects three million people in the UK. And one million of those don't know they are at risk. That's three million people who are someone's parents, grandparents, children, friends. Kidney failure is rising, as are the factors contributing to it, such as diabetes and obesity. Almost one person every hour in the UK develops kidney disease. And history is repeating itself, with successive generations experiencing the same life-limiting health problems and inadequate treatments.
The COVID-19 pandemic has made life for people with kidney disease even tougher. Thousands are still shielding due to being at higher risk of becoming seriously ill or dying from the virus. Before the vaccination programme began dialysis patients had no choice but to put themselves at risk by attending their life-saving hospital treatment. Patients who have had a kidney transplant take vital immunosuppressant medicines which stop their transplanted kidney from being rejected. These medicines also mean that some kidney patients aren't responding as well to vaccination (if at all). Lockdowns have also exacerbated the mental health problems that come with living with kidney disease.
Now is the time to improve the UK's kidney health.
We must increase innovation and investment in renal research to change and save lives. In partnership with the BIA and its members, our combined resources will enhance Kidney Research UK ability to influence policy and facilitate patient engagement. Connecting industry, charity and academia we will work together to provide better outcomes for people affected with kidney disease to live life better and to drive research that transforms treatments.