Redefining Early Stage Investments (RESI), Boston
Life Science Nation (LSN) is hosting a hybrid event, RESI Boston 18-20 September and is offering BioIndustry Association (BIA) and its startups a special discount to attend RESI. This event occurs onsite on Monday, September 18th at the Boston Park Plaza from 9am – 5pm Eastern Time, followed by a cocktail reception. The remaining days, September 19th, and 20th will be entirely digital partnering on the RESI Partnering Platform.
LSN's RESIs are held 5x per year and is the hot spot for early-stage life science companies (Drugs, Devices, Diagnostics, and Digital Health, and raising Seed to Series B under $50M USD to begin meeting a global range of investors and strategic partners who may eventually become a part of current or future capital raises.
Investor Panels and Workshops
Access all the investor and licensing partner panels and workshops. This content provides insight from the international strategic partners who use LSN and RESI to source early-stage assets for their portfolios and product pipeline. Hear these strategic partners tell you how they source and evaluate startups and what the process takes.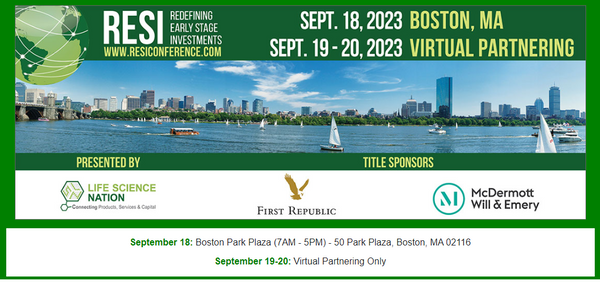 A Discounted RESI Partnering is Available for Startups Who Want to Partner

At every RESI conference, tech hubs receive a discounted registration for their early-stage startups to sign up and meet investors and licensing partners.
The package includes one 3-day partnering ticket (valued at $1995 USD), one Innovator's Pitch Challenge (IPC) pitch slot (valued at $3495 USD), and participation in a 1-day pre-RESI education course (valued at $1000).
The total value is $6490 USD, but for BIA member startups can benefit from a discounted rate of $1495 USD per person. Apply discount code - BIAPACKAGE.