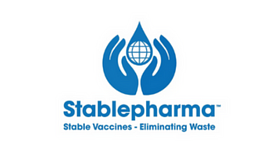 Stablepharma Ltd
Our novel patented StablevaX™ technology can thermally stabilise and deliver a wide range of vaccines without the requirement for refrigeration. Stablepharma has developed a stabilised vaccine solution that could eliminate the need for the cold chain and enable stockpiling anywhere in the world.
StablevaX™ is designed to dramatically enhance the performance of existing and new vaccines. Stablepharma stands to revolutionise the vaccine industry, by helping shield vaccines from temperature-related deterioration and wastage.
StablevaX™ has shown strong in-vitro and in-vivo data on stabilising range of vaccines including Tetadif (Td) and naked COVID mRNA. Stablepharma R&D team believe that the StablevaX™ technology could be applicable to over 60 vaccines.