UK biotech financing in 2021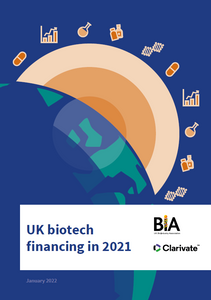 The latest UK Biotech Financing Report, published by the BioIndustry Association (BIA) and Clarivate, shows 2021 was the highest year on record for investments into UK biotech and life sciences companies.
£4.5 billion was raised in public and private financings, £1.7 billion (60%) more than in 2020.
Venture capital financings totalled £2,518 million, an increase of 81% from 2020

Initial Public Offerings (IPOs) totalled £1,304 million, an increase of 434% from 2020
Other public financings raised £684 million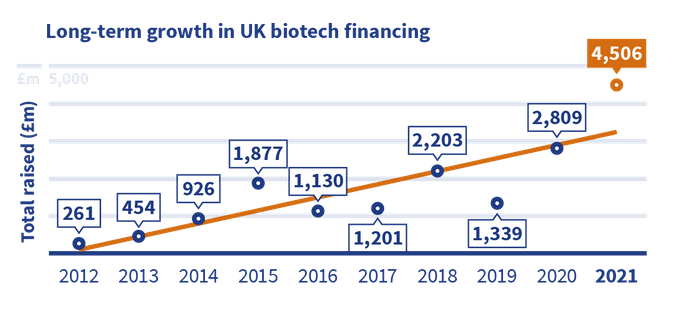 Although venture capital made up a greater proportion of the total raised, it is the number and scale of IPOs that mark out the year as distinctly different to what the UK has seen before, with a remarkable increase from the £244 million raised in 2020. Listings of UK companies on markets on both sides of the Atlantic suggest an ecosystem reaching maturity, and the record-breaking levels of venture investment shows a strong pipeline of companies coming through.
Notable company investments include:
Oxford Nanopore topped UK Venture deals for the second year running with a £195 million fundraise prior to their £350 million London IPO, which was the largest amount raised in a listing on the London Stock Exchange by a biotech company.
Vaccitech, the Oxford University spin-out commercialising the technology platform behind the Oxford/AstraZeneca COVID-19 vaccine, also raised a large series B round of £118m prior to their IPO on NASDAQ.
Exscientia capitalised on the well-placed hopes of AI-driven drug discovery to secure the fourth largest private fundraise ever recorded by the BIA, with a £158m Series D round.
Download the UK biotech financing in 2021 Report for more information and get in touch with Dr Martin Turner, Head of Policy and Public Affairs [email protected] if you have any questions.
More within