Animal research plays an invaluable and legally mandated part in the development of medicines. It is extremely important - and a legal obligation – for researchers to ensure that promising new medicines are tested for safety and efficacy (i.e. having the intended effects) as far as possible before they are tested in humans.
The BIA is a signatory of the Concordat on Openness on the Use of Animals in Research, an agreement supported by a range of organisations – including universities, companies, research funders and umbrella organisations – to commit to being open about the use of animals in research in the UK.
The BIA is also part of the UK Bioscience Sector Coalition, which aims to represent the collective views of the bioscience sector with an interest in the use of animals in research, recognising that good science and good animal welfare go hand-in-hand.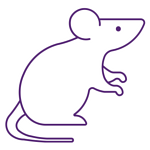 The UK's standards rank among the highest in the world for the welfare of animals used in research, including a commitment to the 3Rs – the reduction, replacement and refinement of animals used in research. The BIA supports the aims of the Concordat, which will help the research community to communicate about the benefits, limitations and nature of animal research to ensure the public has the information they need to develop informed views on this topic.
In 2021, 3.06 million scientific procedures involving living animals were carried out in Great Britain. This is an increase of 6% from last year.
For more information, please see the full report Annual Statistics of Scientific Procedures on Living Animals 2021
For a summary of the 2018 animal research statistics, see our blog here.