Evaluating patient access to rare disease treatments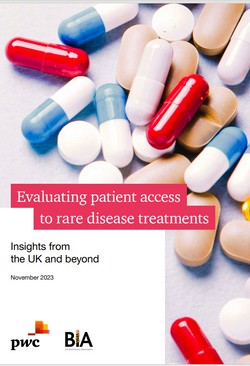 Rare diseases are classified as diseases that impact fewer than 1 in 2,000 of the population. There are over 7,000 known rare diseases and whilst individually these diseases are rare, collectively they are estimated to affect over 3.5m individuals in the UK. Not only do these diseases impact patients directly, but they often place a significant burden on patients' families and carers. For 95% of rare diseases, there is no approved treatment.
This report, with research provided by global consultancy firm PwC, provides a comprehensive assessment of the progress that has been made in improving access to rare disease treatments in the UK, and the challenges that remain. The report is based on extensive research and conversations with key stakeholders in the UK rare disease space, including NHS England, NICE, patient groups, clinicians, and industry.
The report, which was supported by the BIA's Rare Disease Industry Group (RDIG), identifies that the UK lags behind comparable countries, including France and Germany, on the degree of availability of treatments for rare diseases. Data from the European Federation of Pharmaceutical Industries and Associations (EFPIA) show that 59% of rare disease drugs approved by the European Medicines Agency (EMA) had been reimbursed in England between 2018-2021, and 55% in Scotland. This compares to 86% in Germany and 77% in France, although it ranks above Spain with 52%.
Recently, both NICE and the MHRA have announced new ways to increase their collaboration with other HTA bodies and regulators to speed up patients' access to new medicines, including through the new International Recognition Procedure. To help inform this collaboration, the report identifies successful examples of processes and schemes that help to facilitate access to rare disease drugs in comparable OECD countries that could become international best practice, including in the UK.
More within