Alzheimer's disease diagnosis and treatment: Never too early, never too late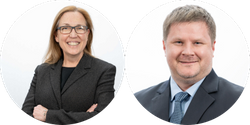 September is World Alzheimer's Month. In this blog, Dr Sonya Miller and Professor Bjoern Schelter share expert insights into the progress made so far in the diagnosis and treatment of Alzheimer's disease (AD).
Dr Sonya Miller is Head of Medical Affairs and Medical Oversight Lead at TauRx, a global leader in Tau-based research in AD which has recently completed its latest phase three clinical trial researching, a potential treatment for Alzheimer's disease and is part of the joint venture which created GTD.
Professor Bjoern Schelter is CEO of GT Diagnostics (GTD) which aims to change the dementia diagnostic landscape by developing much-needed digital tools to support early diagnosis and progression monitoring.
---
September is World Alzheimer's Month but in the history of diagnosis and treatment of AD, 2023 will go down as a landmark year of progress.
Decades of painstaking research since the last, modest AD breakthrough in 2003 have culminated in three game-changing achievements in the battle against the disease: the licensing of new drugs that can slow progression; positive research results for other late-stage products targeting different aspects of the disease; and the launch of a new generation of powerful, patient-centred diagnostic tools and effective blood-based biomarkers.
Taken together, these scientific leaps forward hold out a genuine promise of life-enhancing advances for the 55 million people globally who are currently living with dementia, and for the estimated 139 million people who may have developed the condition by 2050.
Thanks to these transformative developments, it is now genuinely never too early and never too late to take effective action on AD and dementia.
Never too early
Until the recent advances in blood-based biomarkers and diagnostic apps, AD and dementia diagnosis was based on a battery of tests carried out by a range of specialists, from GPs and psychiatrists to geriatricians and neurologists.
Typically, testing at a memory clinic was followed up by putting a person through a CT, PET, or MRI scanner to capture an image of their brain. Given this complexity and cost, AD diagnosis has often tended to come too late or not at all.
However, researchers have now successfully developed diagnostic tests that are simple to administer and allow the condition to be caught at much earlier stages in its progress. These are opening the way for effective treatment through a new generation of therapeutics.
It is now possible to download the new generation of smart psychometric aids to diagnosis as apps on a smartphone or tablet, from the Google Store or Apple Store. These new apps are transforming the speed, ease, objectivity, and efficacy of diagnosis, meaning that it is never too early to check for possible symptoms.
GT Diagnostic's new well-being app, called HiPAL, was launched commercially this summer. Already available in the US, the UK, several European countries, and Malaysia, it is set to be released across most of the world shortly.
The app allows anyone who has worries about their cognitive health to monitor their status in the comfort of their own homes in just 3-5 minutes. It's simple, efficient, and patient-friendly.
Crucially, AD patients have now had their voice heard through new research conducted by TauRx. The consultation confirms that they want an app that is accessible, isn't confronting and does not cause upset in the event of poor test performance.
This is important as some tests are seen as too onerous and daunting for people with a degree of memory impairment. HiPAL meets all these important patient wishes, making the promise of 'never too early' to monitor cognitive health, a reality.
At the same time, HiPAL's professional counterpart, HiPAL Pro, was listed with the FDA in the United States at the end of August for use by clinicians and neurologists. Early feedback has been very positive.
In tandem with the apps, a new generation of blood-based biomarker tests is also helping to overcome those long-standing barriers to AD diagnosis, making the process as straightforward and accessible as the universal tests for common cancer screening. Again, this allows for much earlier intervention and potentially more effective treatment.
Never too late
If it is never too early to diagnose and take action on AD, the latest research achievements are showing that it is never too late to consider appropriate treatment pathways. In July, TauRx announced encouraging results from its Phase 3 LUCIDITY trial, which focused on finding a potentially effective treatment for AD, including people suffering from mild-to-moderate Alzheimer's disease.
The trial was accessible for recipients at various stages of the disease, including mild cognitive impairment (MCI) due to AD, and mild-moderate AD. With a reassuring safety profile, the trial didn't exclude participants who were overweight, hypertensive, diabetic or who had complex co-morbidities. This stands in contrast with many other treatments that have been progressed, which focus mainly on treating the mildest stage of diagnosable AD.
The emerging focus from researchers like TauRx is to develop a treatment that benefits people across all more stages of AD, including moderate AD, which means it will never be too late to diagnose and seek treatment. TauRx is now engaged with regulators worldwide to help contribute to the treatment options being brought to mainstream healthcare services globally.
The new diagnostic tools and biomarkers for AD enable much earlier testing. This allows people to make lifestyle adjustments that could help prevent a predisposition from becoming a full-blown condition in later life.
Discovering a cure for, or preventing the onset of, AD remains the ultimate ambition for medical researchers. However, the powerful combination of effective diagnostic tools and the latest generation of therapeutics means that it really is never too early and never too late to intervene in AD and dementia. That is a message of hope for the millions of people living with these conditions and for their families.
More news and updates
More within