Member Spotlight: Interview with Simon Chandler, Chief-Executive of Rinri Therapeutics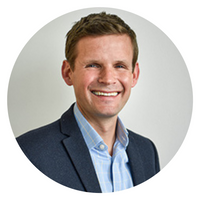 In light of Deaf Awareness Week, we interviewed Simon Chandler, Chief-Executive of Rinri Therapeutics, a preclinical stage biotechnology company focused on developing advanced regenerative cell therapies for hearing loss.
Q: Tell us about your company
A: Rinri Therapeutics is a preclinical stage biotechnology company focused on developing advanced regenerative cell therapies for hearing loss. We were intially spun out from the University of Sheffield in 2019 with seed investment from Boehringer Ingelheim Venture Fund, UCB Ventures, Alderley Park Ventures (now We Are Pioneer Group) and the University of Sheffield. Our scientific founder is Professor Marcelo Rivolta.
Our scientific approach is to use pluripotent stem cells to produce intermediate forms of mature cells, progenitors, that can be transplanted to areas of disease or damage to restore natural cell complement and function. Our lead product Rincell-1, a cell therapy for a form of hearing loss called Auditory Neuropathy, is able to restore up to 40% of the hearing of disease models.
Rinri adopted a semi-virtual business model strategy to capitalise on the UK's excellent ATMP infrastructure and tap into talent across the UK, no matter where they lived. As a result, from a modest start, we have attracted some of the best talent in the UK and have partnered with world experts in cell therapy development and clinical otology such the Cell and Gene Therapy Catapult, the University of Nottingham, Guys and St Thomas' and the University of Sheffield. This has helped shape our preclinical and clinical development activities and has moved us rapidly from technology transfer to having first in human clinical trials for our lead product in our sights.
Q: What is your company trying to achieve? What is your vision?
A: It still amazes me the scale of the hearing loss problem across the world. Some 400-500m people currently suffer from disabling hearing loss, which is a loss of hearing significant enough to make it difficult for them to understand someone else's speech. This number is only increasing as hearing loss is a natural consequence of ageing, so the number of people affected is increasing with ageing global societies.
Rinri's vision is simply a world without hearing loss. Specifically, we are looking to treat sensorineural hearing loss (SNHL). This represents over 90% of hearing loss cases and is caused by death or damage to the specialised sensory cells (auditory hair and neuron cells) of the inner ear (the cochlea). These cells are easily damaged but cannot naturally be restored or repaired.
Unbelievably, despite the large patient numbers, the demand, and the commercial opportunity, there are no disease-modifying therapies for hearing loss, including SNHL. The only options for patients with SNHL are palliative medical devices such as hearing aid and cochlear implants. These only treat some forms of hearing loss where the auditory hair cells are damaged, and the resultant hearing is often degraded and unnatural. There are no treatment options for those with damage to auditory neurons, and patient outcomes are poor.
To address the completely unmet need, Rinri has initially focused on developing a stem cell derived cell therapy for auditory neuropathy. Our vision is to ultimately develop a cell therapy for auditory hair cell damage as well and therefore have solutions for the vast majority of patients with hearing loss across the world
Q: Where did you get to so far?
A: Rinri has made excellent progress so far. Starting from a purely academic base, with some exciting and compelling proof of concept data, we have made significant headway toward getting our lead product, Rincell-1, into clinical trials. Internally and with our external partners, we have successfully developed a GMP compliant manufacturing process, generated a comprehensive preclinical safety and efficacy data package and have a compelling clinical strategy. We have also had very positive interactions with regulators, such that we are confident in our plan to deliver us to first in human clinical trials in the next couple of years.
Q: What excites you about the UK life sciences sector?
A: The impact of cutting-edge life science research on the world has been well demonstrated over the past few years during the Covid pandemic. The UK has been a hotbed of life science innovation for decades, resulting in some fascinating technology businesses coming out of UK research. The UK life science sector has come through the recent period of uncertainty in robust health, with £4.5 billion of investment raised in 2021 (up from £2.8 billion in 2020). I think that much of this is driven by the unique UK investment ecosystem that combines early-stage risk-tolerant investors and Government innovation support.
Q: Why did you join the BIA and what is the best thing about BIA membership?
A: We joined BIA to be part of a network of leading technology companies in the life sciences space working towards innovative healthcare solutions that truly make a difference to patients' lives.
Q: If you could invite any scientist or entrepreneur to dinner, who would it be and why?
A: Few people can connect disparate ideas from apparently unconnected areas of life into new ideas and concepts. These people are fascinating to meet. So, personally, I would invite Alexander von Humboldt to dinner. He is a very overlooked 18th century polymath. He worked across biology, ecology and geology, laying foundations, travelling far and wide to test his revolutionary scientific theories, ultimately making many innumerable contributions to these developing fields.
More within