Tackling gender-related hurdles in STEM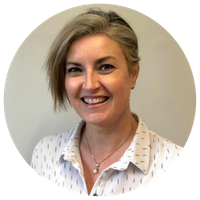 Meet Chiara Bacchelli, Precision Medicine & Human Genetics Lead at Lifebit. Despite the hurdles she faced whilst pursuing a career in STEM, Chiara has not only already published over 60 scientific articles in peer-reviewed journals covering genomic and precision medicine, she has also led her team into the discovery of over 40 novel gene defects in rare disease paediatric patients, shortening their diagnostic odyssey.
Last week, Chiara spoke at our Women in Biotech, Cambridge event, where we addressed this year's International Women's Day theme of #EmbraceEquity. International Women's Day (8 March) celebrates the social, economic, cultural, and political achievements of women.
---
My name is Chiara Bacchelli. I am Italian and a scientist, a human molecular geneticist by training. Previously Associate Professor in Personalised Medicine & Genomics at UCL and Great Ormond Street Hospital, I am now the Director of Clinical Services and Precision Medicine & Human Genetics Lead at Lifebit. I have been working for over 20 years in the field of genetics and genomic medicine, with a focus on Rare Diseases. During my academic career, I had many scientific breakthroughs and discovered over 40 novel gene defects associated with rare disorders affecting children.
My passion for STEM started really early on, while in secondary school in Italy. I always liked science, maths and biology and when it came to choosing what to read at University, I was allowed to follow my passion. I undertook my degree in Biological Sciences in Modena, my hometown, a degree which I loved. Genetics was my absolute favourite subject which I then pursued with a PhD at UCL in London in molecular biology and genetics. It was hard work, but all worth it and one of my proudest achievements. It set a fulfilling career path for me in discovering new genetic disorder causes for children with rare diseases, which resulted in shortening their diagnostic odyssey and in many cases to an intervention or treatment.
Gender bias in academia and the workplace
As a woman in science, I have faced the same challenges as many of my fellow women colleagues. Despite the number of women entering those disciplines being far greater than men, only a few women make it to the top positions and become full professors. Many women are leaving science quite early on in their careers. Sexism, discrimination, and unconscious bias are still running very high in academia, usually perpetrated by someone who wants to maintain power.

I persevered anyway but mainly because I was blessed and very lucky to have some of the most amazing mentors and managers over my career, all of whom were men who supported and encouraged me to progress. A pivotal moment for me was when I attended the Eureka Institute for Translational Medicine International Certificate Course back in 2015. Led by the most amazing team of like-minded and innovative leaders, the course really opened my mind to new ways of thinking about science and opportunities outside academia. That is when I decided to found my own company and I opened a private clinic in Harley Street in London to bring genomic testing with the latest technologies (at the time confined to research and academia only) to all people, democratising access to such tests.
Subsequently, I joined Lifebit, led by a woman CEO whose vision, sense of purpose and motivation are equal to none. A great role model for women in science. To people who are looking for a career in STEM I would say not to stop pursuing their dreams, big or small, always think outside the box, be innovative, be open to change and growth. And surround yourself with passionate people and great mentors.
If I could invite a scientist, dead or alive, to dinner it would be Rosalind Franklin. So much controversy has been built around her career, her contribution to the DNA double helix model and structure, her missing out on the Nobel Prize and so many other stories. As an early pioneer in science and an outstanding scientific mind, I would like to hear from her how it really went…
Sign up to lifebit's mailing list to recieve their latest news, events, and updates!
More within