TechBio innovator: CardiaTec case study

CardiaTec, a University of Cambridge spinout, uses AI to analyse multi-omics data to discover new drug targets for cardiovascular diseases. The latest BIA's TechBio 2023, the UK driving AI revolution report case study explores the opportunities, challenges and benefits in the CardiaTec new technology.
---
What does the company do?
CardiaTec is the first AI-enabled drug target discovery company specialised in cardiovascular disease, the leading cause of death globally. Its human-centric, multi-omics approach allows for the identification of novel and better biologically defined drug targets with an increased probability of clinical success.
How does the technology work?
CardiaTec is building the first and largest proprietary multi-omics dataset of human cardiac tissue. This platform integrates various biological data layers, including genomics, transcriptomics, epigenomics, and proteomics, to provide a comprehensive understanding of disease biology. By employing advanced AI algorithms, CardiaTec identifies and prioritises dysregulated drug targets and disease-related pathways. This approach enables the discovery of drug targets with well-defined mechanisms of action that are causal of disease thereby increasing the likelihood of successful clinical translation.
How will it be used?
CardiaTec's initial focus is on coronary artery disease. The platform has incorporated multi-omics data from coronary tissues. Unlike traditional targeted omics data analysis and hypothesis-driven drug target discovery, CardiaTec's model employs a fully unbiased multi-omics approach. This enables the models to suggest new pathways and proteins without being influenced by current knowledge or scientific expectations. This approach fosters the discovery of entirely novel pathways that might not have been previously considered in the development of therapeutics for coronary artery disease.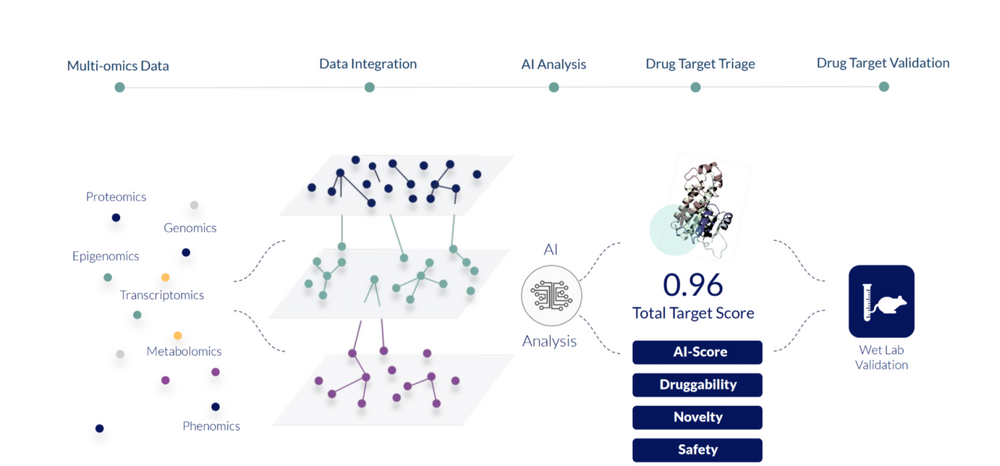 What are the opportunities and challenges?
Challenges in cardiovascular disease space:
Cardiovascular disease is the leading cause of death globally, yet therapeutic innovation has been stagnant. The drug development pipeline for cardiovascular disease has experienced minimal growth in the last 10 years compared to other therapeutic areas despite the high mortality rate
The complexity and multifactorial nature of cardiovascular disease pose significant challenges in understanding its underlying pathophysiology. Current investigative techniques, such as single omics analysis, provide a limited understanding of disease mechanisms, impeding the identification of effective drug targets. Consequently, the clinical translation of associated drugs has been suboptimal, leaving a substantial unmet need for more effective treatments.
Opportunities:
Cardiovascular disease represents a significant global health concern, offering a substantial market for innovative therapies
There's potential for substantial advancements in drug development for cardiovascular disease, considering the relatively stagnant progress in recent years
The emergence of more comprehensive technologies, including multi-omics, allows for the complexity of cardiovascular biology to be better captured.
What are the future trends?
CardiaTec plans to expand its multi-omics data generation and drug target discovery to encompass additional cardiovascular indications in the future.
More news and updates
More within